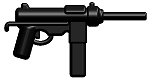 The M3 Grease Gun is a world war era submachine gun that was produced by Brick Arms during the August 2011 release.
Brick Arms Description
"Lightweight but still packing quite a punch, the BrickArms M3 Grease Gun is the perfect submachine gun for the US solider on the go!"
It comes in the color black and it currently costs $1
Ad blocker interference detected!
Wikia is a free-to-use site that makes money from advertising. We have a modified experience for viewers using ad blockers

Wikia is not accessible if you've made further modifications. Remove the custom ad blocker rule(s) and the page will load as expected.