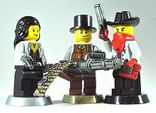 BrickArms Minifigs are custom minifigs that include BrickArms. In the past, Will has released custom minifigures such as;
US Marine Sergent
German Army Colonel
SS Major
and many more.
However, due to limited parts, each minifigure is run in short supply.
Mr. Badger and the Black Lodge Customs releases new custom minifigures at almost every convention Will attends, and most recently, at the unveiling of the Member Exclusive section.
Recently, the minifig customizer known as Thrash has collaborated with Will to create numerous, well received custom minifigures.
Controversy
Edit
A Muslim fudamentalist group complained about the custom BrickArms 'Mr., White' minifigure because it took a slight resembalance to an Al-Queada terrorist. The dispute went on the front page of newspapers like The Sun, but Will denied the acusation, saying that it was just a bad guy for the good guys to fight.
Ad blocker interference detected!
Wikia is a free-to-use site that makes money from advertising. We have a modified experience for viewers using ad blockers

Wikia is not accessible if you've made further modifications. Remove the custom ad blocker rule(s) and the page will load as expected.